Author:

Manuel Lemos



Categories: Site features, JavaScript Innovation Award


The JavaScript Programming Innovation Award is initiative that will give prizes and recognition to authors that publish innovative JavaScript objects.

This award did not start yet but hopefully will be started soon. Read this article to learn more about this initiative and what you can do to help making it start as soon as possible.
Contents
What is the JavaScript Programming Innovation Award?
The JavaScript Innovation Award Challenge
Sponsors of the JavaScript Innovation Award
Special Prizes for the Best JavaScript Contributors
Conclusion
What is the JavaScript Programming Innovation Award?
The JavaScript Programming Innovation Award is an initiative organized by the JSClasses site with the goal to distinguish developers that contribute innovative JavaScript objects.

This is the JavaScript counterpart initiative of the PHP Programming Innovation Award started by the PHPClasses site in 2004.
If you are not familiar with this initiative, it works like this. Every month the PHPClasses site nominates all packages that implement innovative features or solve problems in an innovative way. In the next month the users vote on the package that they consider more innovative from those that were nominated.
In the following month the results are announced. The authors of the winner packages are entitled to choose a prize from a list of several provided by sponsors. The prizes consist in valuable goods that interest the developers in general, like IDEs, software tools, books, etc..
All nominees with votes are entitled earn prizes even if they do not win, as long as there as enough prizes provided by the sponsors.
Nominated packages will get special attention in the site podcast. Some authors may be invited to the podcast to talk about their work, and so get further recognition.
Since the beginning, the PHPClasses site nominated 875 packages submitted by 553 authors that gained additional recognition and earned special prizes for participating in the initiative. The idea now is to repeat the success of this initiative in the JavaScript community.
The JavaScript Innovation Award Challenge
The JavaScript innovation award was not started yet. The matter is that is that there are not yet so many packages in the JSClasses site. If the award was started now, most submissions would be considered innovative and the authors would not really be distinguished between each other.
There needs to be a greater base of submitted packages, so we can distinguish really innovative authors. Therefore, a minimum of submitted of packages was determined to be the goal to reach before the JavaScript Innovation Award can be started.
The goal is to reach 200 packages. Currently 134 were submitted. Therefore 66 are remaining until the goal is reached, hopefully before the end of this year. Now the JavaScript Innovation Award Challenge is to publish the remaining packages to reached the proposed goal.
The challenge was started now. Keep an eye on the page of the JavaScript Programming Innovation Award to follow the progress of this initiative. There you will find a progress bar showing how much of the goal was achieved and how much is remaining.
Sponsors of the JavaScript Innovation Award
The sponsors for the JavaScript Innovation Award are being contacted and invited to participate. Some of them are the same that already sponsor the PHP Programming Innovation Award. Others will join to provide prizes of interest to the JavaScript developers that will participate.
Sponsors do not have to pay anything to participate in this award. They only need to commit to give away up to one prize per month.
If you have a company that sells products of interest for JavaScript developers, you may contact the site now to candidate to become a sponsor. The only requirement is that you are willing to commit every month to give away a prize that is desirable by JavaScript developers.
Special Prizes for the Best JavaScript Contributors
Since the JavaScript Innovation Award will only be started later, it is possible that some authors will be holding back their submissions, so they can earn the award prizes later.
Therefore, to incentive every developer to submit their packages now, the JSClasses site is going to give away a special prize to at least the top 5 authors that submit more packages until the award is started.
The initial idea was to give as prize something that represents a symbol of JavaScript. However JavaScript does not yet have a meaningful symbol to represent it.
On the other hand, many JavaScript developers are also PHP developers, therefore it may be also appealing for the eventual contributors that want to participate in the award to earn a symbol of PHP, which is the case of the elePHPant plush toy.
Unfortunately the original elePHPant plush toys do not seem to be produced anymore or otherwise seem to be hard to find. Therefore the PHPClasses site started producing their own plush toys based on the current mascot logo of the site, design by Ifat Amit.
Currently a prototype is still being developed but hopefully it will be in production soon. Here you can see the current version of the prototype, which is coming close to the final version. The PHP logo is still missing and other changes may still be done to make it more faithful to the original design.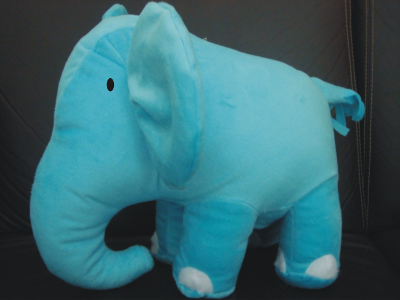 Once these plush toys are produced (hopefully in the next weeks) it will be possible to give them away as symbolic prizes to the top 5 submitters of the award challenge phase.
Keep in mind that the purpose of this initiative is not to attract contributors that will submit a quantity of components without much quality. Therefore only the submitted packages that are considered notable will qualify to count for the top submitters in order to get the challenge prizes.
A package to be considered innovative must be JavaScript Object Oriented component that does something useful, it is not too simple and does something that is not too common. It does not need to be innovative though.
Authors of notable packages will be notified by e-mail, so they realize that their package was considered notable.
A ranking chart of the top notable package submitters will appear on the JavaScript Innovation Award page, so you can see who is leading in the notable submissions and qualifies to win the prize.
Conclusion
If all goes well the JavaScript Programming Innovation will encourage more and more developers to share great JavaScript components for the benefit of the whole JavaScript community. In trade they will be able to get more recognition and prizes for their contributions.
If you found this initiative motivating, start contributing your JavaScript packages now, so the award can be started sooner rather than later.
Please post a comment if you have further questions about this initiative.
You need to be a registered user or login to post a comment
25,349 JavaScript developers registered to the JS Classes site.
Be One of Us!
Login Immediately with your account on:
Comments:
No comments were submitted yet.